Getting Safari Books Online
Written on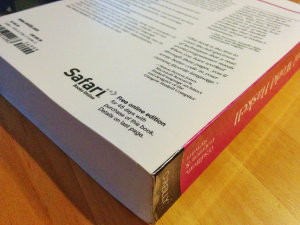 I like the books from O'Reilly. For many years I've seen the ad on the backside advertising Safari. Sure, I checked out what this is, but I wasn't really interested to have a digital copy for a limited amount of time. I already had the print version.
I love to read real books made of paper. I use highlighters and add notes, while reading. I make the book mine. And after finishing the book, I can place it on my bookshelf, to show the books I like to others. This doesn't work with my Tolino e-book reader. While I have this device, I still buy most books as a paper copy.
Some days ago, I heard of Safari again on a podcast. I thought, that at least I should check it out. It's not only O'Reilly books anymore and it includes videos and other podcasts as well. There is a free 10 days trial, so I did not have to invest more than some of my time.
It didn't take long and I was captivated by Safari. I noticed how cool it is to checkout nearly any computer book I am normally reading. Curious about something? I can just log in and start reading. It didn't take long, that I had a regular, payed subscription …
The price? It's quite expensive. I have to pay around 40 € per month (including VAT). I saw several people on the net comparing this to about two e-books a month. This comparison doesn't work for me: I still want to read paper books. For me Safari is a tool to fossick for new content.
Another big down-side of Safari is, that you have to read it on the web, or with an Android or iOS app. This limits the user to read on devices with a screen not optimized for reading. You cannot read using an e-book reader with an e-ink display and much less weight per screen size.
For the moment I am still enjoying the service as a big index to books I might been interested in. To bad, that there is no offer for people using it and buying the books at the same time. As a Safari subscriber I'd like to get a discount on the books I buy. Or they could offer some free days for every bought paper book.
Link